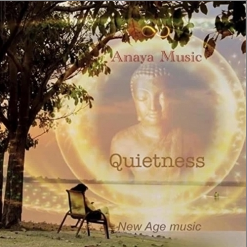 QUIETNESS
Anaya Music 2023 / Tanya Mara Bothelo
2023 / Tanya Mara Bothelo
46 minutes
Review by Kathy Parsons Award-winning composer, musician and filmmaker (among many other things!) Anaya Music returns with Quietness, a mostly electronic instrumental album (with wordless vocals) that was created "to enhance deep and inner peace and quietness." Also known as Anaya Kunst and by her given name, Tania Mara Guedes Botelho, the Brazilian artist has been creating beautiful music to promote peace, wellness, love, and inner calm for more than twenty years. With impressive careers in both academia and the arts, Anaya brings a wealth of experience to her music. Created to soothe and uplift the spirit as well as to bring inner peace, Anaya's music is more ambient than melodic and features a wide variety of musical instruments including strings, keyboards, piano, ethereal vocals and more.
The thirteen pieces on Quietness were inspired by sunset footage by AnayaMusic. Quoting the artist herself: "The heart of the Earth opens, we find the water and the sun radiating, giving us deep peace....From its sovereign position, source of all light and heat, gently touching like a brush on the calm waters of this inspiring landscape that pacifies the mind and soul. A celebration of light, the heat of the sun and the freshness of the water that generates life and gives us profound Peace."
Quietness begins with "Home Calmness," setting the tone of peace and warmth that runs through the entire album. "Balancing" has a gentle flow that invites us to take some deep breaths and let go of the stresses of everyday life. "Sacred Flames" further enhances the peaceful, soulful nature of the album. "Gardening" isn't a title you see for many pieces of music, but that's where I, too, often find myself in my "happy place" when the sun is shining and flowers are blooming. The sound of birds in addition to the musical instruments makes the musical experience even more vibrant and alive. "Angels" also includes nature sounds woven in and out of the instruments (mostly piano and strings) and angelic voices. This one is so soothing and calming that it would be great to listen to while falling asleep. "At Night" expresses the blissful calm of a night when everything feels right with the world. Ahhhhhhh.... "Calmness" has a similar effect, smoothing the rough edges of a hard day or week or year. Strings and ethereal voices float in and around gentle synth washes of muted tonal colors. The closing track, "Sword," is quite different from the other pieces on the album with its distinctive Latin rhythms in places. Much of the piece is very ambient, but the more dramatic guitar and percussion passages add a really interesting contrast to the rest of the music and provide an element of surprise.
Longtime fans of Anaya Music will find much to love in Quietness. If you are new to her music, this is a great place to start! The album is available to download and/or stream from sites such as Amazon, AppleMusic/iTunes and Spotify. Check it out if you could use a bit of Quietness in your life!
March 17, 2023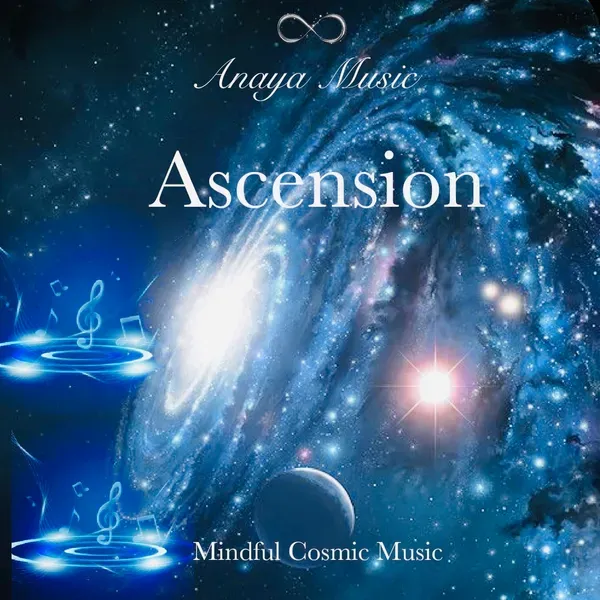 Ascension
Anaya music
Ascension is the realm of beauty, peace and tranquillity, where you meet your Enlightened Soulmate.
Is the realm of beauty, peace and tranquillity, where you meet your Enlightened Soulmate.